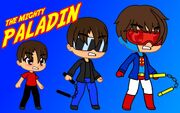 The Mighty Paladin is a superhero who's adventures can be followed on his YouTube channel and his Webtoon. His adventures are illustrated using Gacha. The character was first created in the 1980s for a pen and paper RPG called Villains & Vigilantes. He is the Avatar of his creator Lee Walser. This Wiki will EVENTUALLY give information about the character, his friends and foes and the whole universe he lives in, THE PALADIN UNIVERSE. Unfortunately this is a very ambitious project, and it's going to take quite a while to get it really going. I'm doing this alone while still trying to churn out new episodes of the show. Volunteers are welcome. At the moment I'm starting by uploading all of the videos to this site. Because I don't really know what I'm doing. So if you're new here and you want to find out what this is about click the explore tab and go to videos. Eventually I'll add other content.
Welcome to the The Mighty Paladin Wiki!
We're a collaborative community website about The Mighty Paladin that anyone, including you, can build and expand. Wikis like this one depend on readers getting involved and adding content. Click the "ADD NEW PAGE" or "EDIT" button at the top of any page to get started!
These are the articles that are finished or in progress. Blue are existing articles and Red are empty pages without articles. work in progress
Articles

| Heroes | Villains and Vigilantes | Other Characters | Others |
| --- | --- | --- | --- |
| The Mighty Paladin, Swan Song, Gadget, Stainless, Sakura Gozen, Shadow, Kathy, Shelly, Kitty, Predator, Dr.Wyrd, Dark Knight, Red Dragon, Master Xianwi, Donner, Gun Smasher, Control Freak, Hatsya Kanlaon, Ubermensch, Bright light, Dream Princess, Flipp, Galaxan | Eric, The Executioner, Steel Head, Buzz, Lighting Bug, Johnny DeLasco, Mr. Huff, Spencer Huff, Rat King, Bobo, Danny DeLasco, The Ferret, Black Bat, Blackest Knight, Villainy, Bruce, Black Bird, Daryl, Vision, Black Star, Gang Green, Drug Dawg, Dreamer Chibi, Queen Bee, Bee Men, Swarm, Eris, Shady, Dracula, Vlaad The Slayer, Shadoudoragon, Wufangchu, Lingling, Eye Jinn, Dr. Fang, Sherkahn The Tiger Man, Bulletproof Boxer, Pyro Red, Cultist Armin, Leslie, Moloch, Hanzo, Mr. Sugimoto, Intelligentsia, Walpurga, Overpower, The Barron, Lorelei, Hellfire, Concrete, Rat poison, Rasputin, Dirk Invaze, Contrast | Eddie, Mama, Maw Maw, Mr. Argent, Vulcan, Dongfangli, Glumwatch, Herman, Kondo Isami, Rika, Al Watson, Karl Soren | Seasons, Vulcan Heroes, ASHO, Volsung, Asgardian, Golden Apples, China, Paladin Universe, |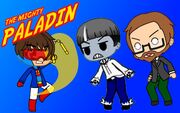 https://www.bhamwiki.com/w/Paladin
https://www.youtube.com/channel/UC48O9dPcNVdeyNM4efAvX6w/videos?view_as=subscriber
https://www.webtoons.com/en/challenge/the-mighty-paladin/list?title_no=287778
Need help building out this community?
You can also be part of the larger Fandom family of communities. Visit Fandom's Community Central!
Community Founders: Write a good and paragraph-length description for your welcome section about your topic. Let your readers know what your topic is about and add some general information about it. Then you should visit the admin dashboard for more tips.
Community content is available under
CC-BY-SA
unless otherwise noted.